Internship in Transparency of the EU Institutions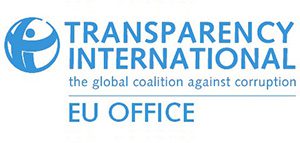 INFORMATION
The Transparency International EU Office in Brussels is seeking a highly motivated intern for its EU advocacy, communications and research work.
The Transparency International EU Office is part of the global civil society organisation leading the fight against corruption. Together with more than 100 national offices worldwide and an international secretariat in Berlin, Germany, TI EU raises awareness of the damaging effects of corruption at the EU level. The EU Office promotes transparency, integrity and accountability in EU policies and institutions.
Main function: Internship – Transparency of the EU Institutions
Starting date: 01 December 2016 or 01 January 2017 (preferably for a period of 6 months)
Location: Transparency International EU Office, Rue de l'Industrie 10, Brussels, Belgium
Remuneration: 751 EUR per month + lunch vouchers
Key tasks include:
Assist the EU advocacy work in favour of increased lobby transparency, conflicts of interest reform and for more legislative transparency in Commission, Parliament and Council by drafting letters and policy briefings, and attending advocacy meetings with policy-makers and EU institutions;
Contribute to the maintenance and further development of EU Integrity Watch;
Assist the internal and external communications work of the EU Office by drafting and editing articles and blogs, and support with multimedia and social media activities; the EU policy and media monitoring, research and analysis work in the relevant field; the preparations of events, meetings and visits in Brussels;
Attend and report on relevant events and conferences;
Overall support to the office, including various administrative tasks;
Perform other ad hoc duties as required.
CONDITIONS
University degree in European Studies, Economics, Law, Political Sciences, International Relations or other social science related field;
Excellent knowledge of English (written and spoken) is a requirement. Other European languages, in particular French and German, are an asset;
Demonstrated knowledge of EU institutions and the policy making at the EU level in Brussels;
Strong writing and creative communication skills including through multimedia and social media communications tools;
Excellent organisational skills including proficiency in MS Word, Excel, Outlook and PowerPoint;
Data analysis, visualisation or basic programming skills are an asset;
Considerable interest in the work of TI and the field of transparency of the EU institutions;
Team-player, practical approach to problem solving and ability to work in a small team in a multi-cultural working environment. An entrepreneurial spirit is an asset.
APPLICATION
Qualified candidates should submit their introductory email with a CV to recruitment@transparency.org. Please specify your name, surname and the position (Internship) you are applying for in the subject line of your email.
DEADLINE
The closing date for applications is 11th November 2016. Interviews will take place during the following week.
We thank all applicants for their interest in this internship. Please note that only short listed candidates will be contacted. Transparency International is an equal opportunity employer.
MORE INFORMATION
To learn more about Transparency International's EU Office in Brussels visit our website at www.transparencyinternational.eu and check out www.integritywatch.eu.