M O R O C C O – Cultural Immersion Trip in the Atlas Mountains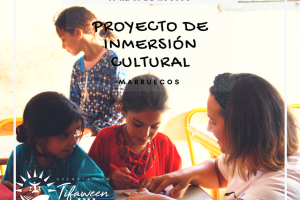 INFORMACIÓN
This summer Tifaween starts a new project in the villages of the Moroccan Atlas, specifically in Tizintzgart, 45 km from Marrakech. It is a small town with a very small, disadvantaged school (as you can see in the previous image). It offers
primary education to about 90 girls and boys, who attend their daily classes. Independently from age, knowledge, capabilities & needs all the kids are mixed in the same classes and get the same education. This leads to the fact that these girls & boys drop out of primary education.
With this cultural immersion project we intend, on one hand, to create awareness on the pure and unadorned culture of a community such as the welcoming groups of Imazighen and the Moroccan. In accordance with our principles of SOLIDARITY, DIGNITY AND COMMITMENT, we try to show the most hidden face of these cultures through a traditional tourist trip and the most human face through a volunteer action. Therefore what we propose you is:
Contribute a bit for 9 days in the village of Tizintzgart through activities aiming to improve and dignify the school, as well as to share educational activities in leisure and free time with the children of the village.
Live for 14 days together with people from all over the world with concerns and motivations very similar to yours.
Travel in a more sustainable and authentic way, closely and respectfully with the Moroccan community, exploring the
highest mountains and the quietest desert, passing through bustling and magical cities and discovering cozy natural spaces.
MORE DETAILS IN THE INFOPACK.
FECHA DEL PROYECTO
between 18-31 August 2018
MÁS INFORMACIÓN
For more information please check the information pack.