CALL FOR VOLUNTEERS FOR EVS IN POLAND!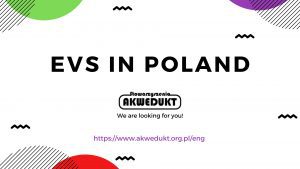 INFOPACK
Stowarzyszenie Akwedukt
WHERE: Kwidzyn, Poland
WHEN: March/April 2019 – March 2020
HOW LONG: 10/11 – 12 months
Deadline for application: 25.03.2019 – CV and motivation letter to marta@akwedukt.org.pl

INFO ABOUT COORDINATING ORGANISATION:
Akwedukt Association is NGO founded by local activists, who want to develop their city, and at the same time help others. AKWEDUKT is an idea to create an organization that focuses on local development, activation of the inhabitants of Kwidzyn, young people, volunteering and promoting cultural diversity. From 2015 we coordinated work of 60 hosted volunteers.
WHAT DO WE OFFER? WHAT YOU CAN EXPECT?
10 – 12 month project
Budget:

  90 euro per month/pocket money
 430 zł per month/ food money
180/ 275/ 360 euro – grant for travel according to distance (reimbursment) for both sides

room or shared room (for 2 people) in apartment with other volunteers (no smoking/alcohol/drugs policy!)
24 days off for whole project * (2 days off  per month/to be discussed with project coordinator and work coordinator
CIGNA Insurance
mentor's support
Polish language lessons
additional trainings
Opportunity to meet a lot of people, from different countries!