Volunteering project in Eco-friendly campsite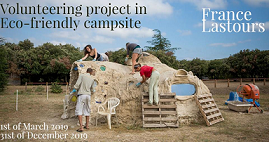 Place: Lastours, France
Who: 1 volunteer 18-30 y/o
Period: 1st of March 2019 – 31st of December 2019
Hosting organisation: Initiative et Developpement Citoyen
Deadline: as soon as possible
Are you interested in sustainable development and nature?
Initiative et Développement Citoyen is a cooperative that runs an eco-friendly campsite in the south of France and organizes environmental awareness activities for children, young people and adults of different cultures. Activities include international exchanges, eco-building work camps and courses in permaculture.
The volunteer will be involved in the following activities:
• organization, promotion and animation of environmental awareness events (eco-building work camps, international exchanges, sustainable cooking courses …);
• creation, management and distribution of info material about the cooperative and its commitment to the environment;
• maintenance of green areas: watering the plants, care of the trees and the garden (2 times a week);
• eco-friendly tourism: delivering bread to customers and taking care of their accommodation;
• sharing info on international mobility: sharing volunteers experiences, support for info desks;
• participation in the daily life of the campsite (cleaning of common areas, showers, meal preparation).
The ideal volunteer should have the following characteristics:
• interest and motivation for the theme of the project;
• strong motivation, adaptability and enthusiasm;
• open to other cultures and lifestyles;
• basic level of English.
Send us your CV and Motivation letter on matea@lesjardiniersdelamobilite.fr or kirill@lesjardiniersdelamobilite.fr and enjoy amazing nature and atmosphere on the south of France!