Modern Education Trainings Coordinator & Social Media Manager / Seville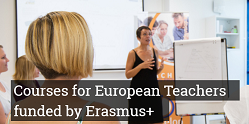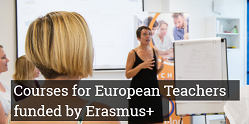 iDevelop – an international training provider specialized in the development of innovative Erasmus+ courses dedicated to teachers is looking for an ambitious and creative young person who will be responsible for managing courses, reaching and subscribing participants, promoting iDevelop offer in social media, and (if he/she wants) creating and delivering his/her own trainings in the field of education.
website: http://idevelopcourses.com
Facebook: https://www.facebook.com/idevelopcourses
Responsibilities:
• Establishing and maintaining contact with potential participants of the courses / gaining new partners and participants
• Running a blog with news and articles on modern education
• Administration of the website idevelopcourses.com: updating and publishing courses
• Managing iDevelop social media (Linkedin, Facebook, Instagram) in a creative manner, interacting with followers in an active way
• Graphic preparation of the educational offer: editing course descriptions, designing folders and course brochures
• Managing projects once they get approved and supporting participants during their stay in Spain: preparation of materials and documents for participants, maintaining contact and providing administrative support to tutors, maintaining contact with participants before and during the course, logistic preparation of the training venue
• Supporting partner schools in preparing their Erasmus+ application forms in the field of adult education
• Optionally: creating and delivering your own courses
Minimum Requirements:
• University degree (preferably psychology, social science, cultural studies, education etc.)
• Advanced knowledge of English
• Good knowledge of Spanish
• Polish or French would be a great asset
• Perfect organization and communication skills
• Creativity, flexibility and positive attitude!
• Interest in the subjects related to personal and professional development (coaching, mindfulness, emotional ecology, etc.)
• Interest / being an active in social media
• Good knowledge of graphic tools such as Photoshop or Illustrator
Additional requirements (nice to have – but not obligatory):
• Proven experience (formal or informal) in running a blog, fan page, or online channel
• Experience as a trainer would be a great asset
• Previous experience in mobility projects or NGOs
• Previous experience in education (formal and/or informal)
• Knowledge of video editing software (e.g. Adobe Premiere)
• Driving licence
We offer:
• Fixed salary and extra bonus depending on the results
• One-year contract with the possibility to prolong it until the fixed-term contract
• Possibility to develop your own trainings and programmes
• Possibility to grow within an international environment
We are looking forward to hearing from you! Send your CV in English together with a motivation letter and if possible, a sample of your activity in the field of education or training, e.g.: moderator of Social Media channels, blog, vlog, article published, training delivered etc.
iDevelop Team
contact: sevilla.manager@euromind.es