Educational outdoor workshop @Vilariño de Conso (Spain)

Ticket2Europe, partner organization in the semi-outdoor training course "Soft Skills, Naturally", assisted one of its members and participant in the project implemented in Taevaskoda (Estonia) in July 2016 in organizing a local workshop as part of its dissemination stage.
The 3-hour workshop was carried out on the 5th of August, 2016 in Vilariño de Conso (Spain), a municipality in a mountainous region in Galicia. The activity was organized by Ticket2Europe and held during a local summer camp in collaboration with the cultural organization Os Tres Reinos.
The target group being a group of 14 kids aged 4-11, we planned a series of activities in order to put in practice the concepts and methods learnt during the training in Estonia. Therefore, our main objective was to introduce the field of outdoor activities/hiking/camping to the kids, as well as to improve and foster teamwork, time management skills and respectful attitude towards the environment.
The schedule of the workshop was the following: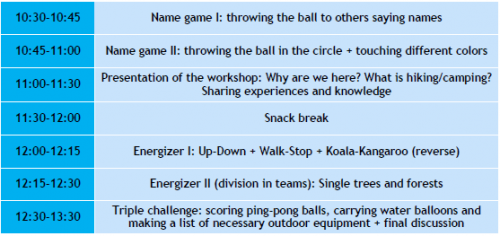 Despite the age gap among the kids, we successfully implemented all steps of the schedule, focusing on the youngest during easier exercises (name games and energizers) and on the older ones during competitive activities, such as the presentation talk and the triple challenge.
The kids understood and contributed to the purposes of the workshop and showed strong interest and deep knowledge when discussing questions such as "what do we need when we go camping?", "what are the do's and don'ts when we camp" as well as sharing their personal experiences with the rest of the group.
From the facilitator's point of view, it was especially useful to remember the personal experience lived in Estonia, as well as the learning outcomes from getting to know each other, teambuilding and soft skills development sessions. Some other concepts discussed during "Soft Skills, Naturally" were also of great help, such as group dynamics, need analysis and planning and structure of educational activities.