How we became project managers… in 7 days! TC "Level Up" Postdam (Germany)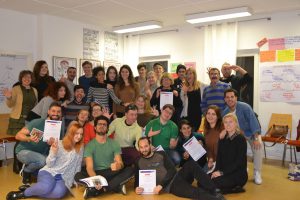 We greatly enjoyed the training course called "LevelUP – Developing & Realising International Projects", which took place in Potsdam (Germany), from 13-20th of November, and was supported by Ticket2Europe.
The daily programme of the course was based on learning objectives that were facilitated by well-experienced trainers who promoted the initiative and creativity in writing and planning Erasmus + projects. Altogether with other 30 people from Bulgaria, Denmark, Estonia, Germany, Italy, Poland, and Romania, we acquired new skills and professional experiences through non-formal methods and interactive activities. Through various individual and group tasks involving self-assessment and team work, we learned how to implement our ideas under the Erasmus+ programme and were given an opportunity to foster international cooperation bonds with other participants who expressed their interest in developing future ideas together.
During these dynamic seven days, we also improved our key competences and increased the chances for employability in youth work at local, national and international levels. We had a chance to develop our linguistic, digital, social and civic competences, as well as to foster a sense of initiative and entrepreneurship by turning ideas into actions, by being innovative and aware of ethical values, and by taking risks to grow as individuals. The project also allowed us to establish networking opportunities and to strengthen the quality and the role of youth work in Europe. Apart from the professional impact, we had lots of fun, met inspiring people, made new friends, and came back home full of innovative ideas ready to be pushed forward.
Ieva
Participant in the TC "Level Up"
13-20 November, 2016 – Postdam (Germany)