EURAXESS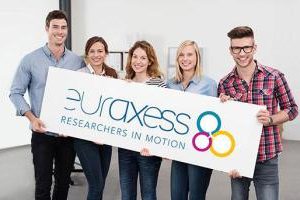 WHAT IS EURAXESS:
EURAXESS is a unique European Research Portal, which providing access to a complete range of information and support services for researchers who are willing to pursue research careers in Europe.
Its aim is to highlight the career of researchers by providing information on research professions throughout Europe, personalized support for mobility researchers, information on the rights and commitments of researchers and research organizations.
EURAXESS portal made it easier for everyone to search for different fields and needs. You will find it divided into four main sectors devoted to four specific initiatives for researchers :
EURAXESS Jobs:
It is a recruitment tool where researchers can find constantly updated information on job vacancies, funding opportunities through Europe. Companies or research institutes can post vacancies and search for international top-notch researchers.
Users have also access to EURAXESS portals of the partner countries which contain information on research job and funding opportunities, as well as on personalized services in each country.
EURAXESS Services:
It is a network of more than 500 Service Centers located in 40 European countries. These Centers help researchers and their family to plan and organize their move to a foreign country.
This free personalized assistance helps researchers tackle issues such as:
– Accommodation
– Visa and work permits
– Language lessons
– Social security
– Medical care
EURAXESS Rights:
This portal provides all information regarding the European Charter for Researchers and the Code of Conduct for the Recruitment of Researchers, which aim at setting out rules and obligations of researchers, their employers and funders, as well as transparent and fair recruitment procedures through the Human Resources Strategy.
The Charter sets out the rights and duties of researchers, as well as research and funding. The Code aims at ensuring equal treatment of all researchers in Europe and increases transparency in their recruitment.
EURAXESS Links:
It is a networking tool for European researchers working outside Europe and non-European ones wishing to collaborate and/or pursue a research career in Europe.
Using this platform will eventually let you discover endless opportunities and it's all free.
Links: