"Start Up Hypothesis" Testimonials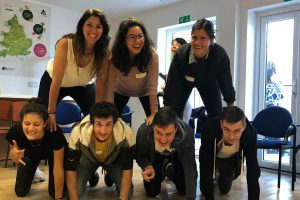 In May of 2019, from 7th to 16th, team of youngsters from Ticket2Europe participated in Youth Exchange "Start Up Hypothesis" on Isle of Wight,UK. The project aimed to empower social entrepreneurship eco-system development and stimulate entrepreneurial learning of youngsters. Here we want to share with you testimonials of the Spanish team  (Maria,Pablo,Orsolya,Alba).
"Learning about social  entrepreneurship while having fun in an international context"
Our British adventure started on the Isle of Wight (Totland). There we have passed some wonderful days with people from Bulgaria, Hungary, Italy, Lithuania, Greece, France, Moldova and Romania. We increased our knowledge about employability and entrepreneurship with dynamics, meetings and teamwork.
Maria (the team leader)
This experience was amazing for me. I learnt a lot of about entrepreneurship while in the same time I met people that became my friends. I had an extra role, but it was so easy for me because everybody has the same objective and the same mood to create an unforgiven experience.
Pablo (first lady)
I got to be sincere: I didn't know sh#t about entrepreneurships or startups: I came here to meet new people, go abroad and learn something about this topic. But what I found was something much bigger. I found adventure. I found fun. I found true love. And I finally found myself out of my comfort zone.
Orsolya (the Hungarian)
I really enjoyed this new approach of learning during this project. I got to meet new people and parts of myself that I haven't met before. I could develop myself in my own rhythm and help others in their process as well. I was given a new perspective and I can't wait to experience life through these glasses.
Alba (the "normal" one)
Through this project I have learn new methods of non-formal education applied in the entrepreneurial field. Having the opportunity to experience working in teams with international people and apply it in the social context of the Isle of Wight, have been a great experience.