"Play the Past, make it Present": Going back to childhood

The Caucasus. Traditional yard games. Summer… and lots of kids! "Play the Past, Make it Present" was a Youth Exchange held in Yerevan (Armenia) from the 12th to the 18th of May, 2016. The weather in Yerevan was lovely, and people from 6 different countries came together full of energy and creativity, ready to get 100% involved into something great and worth doing it.
After spending the first hours together getting to know each other, we met the most important people in the whole youth exchange: the local kids!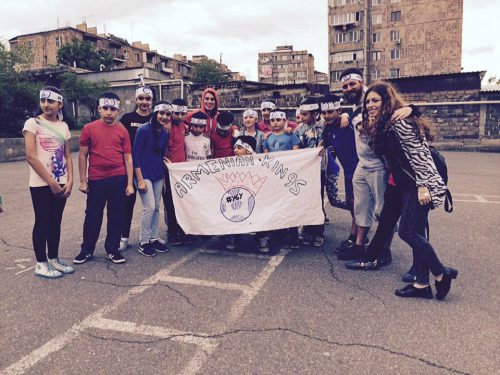 But how? The second day of the project we split into groups and during the morning we prepared the activities we would do with the kids after lunch. There were three local schools, each one of them with 32 kids eagerly waiting for 10 participants to go and play with them. Also, instead of developing the activities with the 32 children together, we divided into two teams, with 16 kids and 5 participants each.
The objective of the day was to make a first contact with the children, design the team names, flags and mottos for the final competition on the last day and the most important thing: to have fun with them! We prepared our activities for a couple of hours and then we had a common check up to tune everything up.
"Will they be shy?", "will they talk to us?", "what if they reject us?", were some of the most worrying questions that most of us had, especially for those who had never worked with kids before. The atmosphere in the bus on the way to the schools was priceless. Some were whispering, others shouting; some were singing and others just trying not to panic. Each one of us was trying to manage our nerves differently, but none could wait for the experience to come!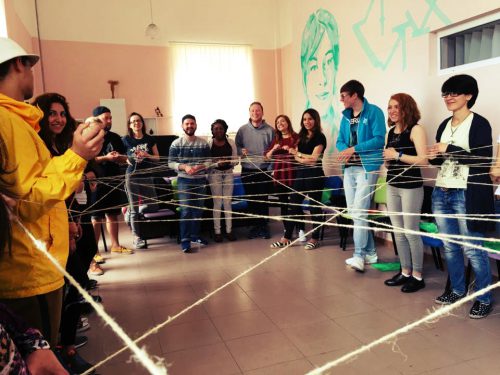 We'll never forget their faces of excitement when we introduced ourselves, the curious look in their eyes trying to understand why a bunch of people had come to play with them, and why some of them spoke only English and not Armenian or Russian.
The result of the afternoon? Tons of fun, learning and affection. A lot of affection and amazement for how great it was to play with the kids! Not a single awkward moment, not a single conflict or misunderstanding… When we came back to the bus it wasn't even necessary to ask the other participants how the experience had been, because the light in their faces said it all. What a great start for the youth exchange!
The best part was that the adventure wasn't over yet, because during the week we planned THE EVENT of the year: the inter-school competition! =) One couldn't tell whom was more excited: the local kids or ourselves!
During the whole week we experienced Estonian sauna pride, "impossibru" Dutch cookies competitions, crazy Georgian "chacha-llenges", and many other great excuses that made us share our roots and strengthen even more what would become unbreakable bonds by the end of the project! ^^
"As I work with children this experience helped me to see other sides of communicating with them, find other ways of leading them."
"This experience will be very helpful by working as a youth worker. All the knowledge i gained and especially new games, i will use it all in the future."
"I think the experience i gained during the project helped me a lot. I think through this experience i learned to think more for myself, and in which way i can help others, without pushing away my own needs."
Participantes en el intercambio juvenil "Play the Past, Make it Present"
12-18 de mayo de 2016
Ereván (Armenia)