The best period of your life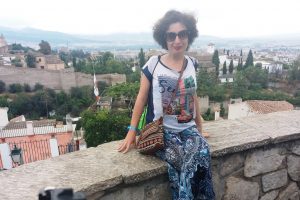 When comes to finish the best stage of your life, October is the last month of our project. This 7 months were for me very interesting, new, unforgettable experience. It was my first experience abroad and I got much new knowledge, I met very interesting people, I studied from them. I studied every day, I improved my life skills, I studied how to manage difficult situations how to find exist.
In September we were in Malaga for the second forum of EVS volunteers. It was very interesting too. We did analyze the way that we spend in Spain on our projects. It was very interesting to share our experience, to speak about our difficulty, about our funny moments. It was interesting to listen to other people, their stories, how they overcome difficulty and its way to improve yourself also.
And also I realized one of my dreams too: to be in Andalucia. I'm very happy that I could feel colorist of this region too. Andalucia is a very especial region, has own colorist. When you walking in street of Granada or Malaga, you feel happiness in your soul.
Generally, it was the best stage of my life. In this 7 months, I got so many things that I sure I will use it in all my life. Spain teached me so much. I'm very glad that I had this experience and this memory from this 7 months will stay with me always.