«Is it possible to learn-by-playing? Can we reflect upon inclusion, communication or creativity through a game? Is it possible to learn how to design educational games in a playful way? How can we provide the space and context for meaningful insights to arise in a game? These topics and more were addressed in the training course «Power of the Game» that took place in Velden (Austria) organized by Gemma with the support of Erasmus+.
Designing a creative way to explore a particular topic is an essential skill in non-formal education. Doing it in a game setting was the exciting challenge that brought me to participate in this intensive training. Now that I completed the process, I'm grateful for the safe environment the trainers created and their feedback and support. Together with a group of participants, we had the opportunity to be game architects, letting our creativity flow to come up with an educational game that later on was tested with the rest of the participants being the players.
The outcomes where high quality resources that I will be using in my daily work as a trainer and educator! What's more, the course was also the nest for further ideas to be developed in the future. The process of creaction is far from ending; actually, it has just started! As Steve Jobs said, «stay hungry, stay foolish!»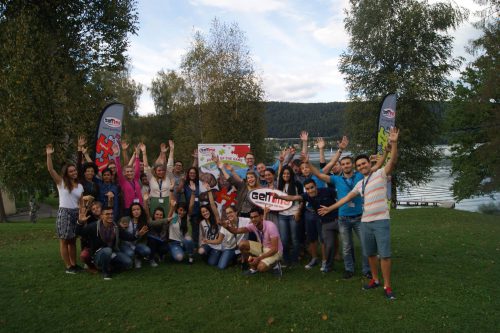 «How could it be possible that a Training Course on gamification could trigger so many and varied results, thanks to…playing games? I could include myself in the group of skeptics that attended this course last September. It was difficult to imagine how a person could learn how to create an educational game while playing it, and to later know how to implement it ourselves in our context in a successful way.
Fortunately, soon after we arrived we started to understand the importance of playing. We almost forgot how good it feels to play, and how powerful games are. It was not just playing…they truly came along with a strong, useful learning process. Before we started the experience, we simply were not conscious enough of how this could improve our daily work with kids, youngsters, etc. It was certainly a week full of learning, creating, trying, analyzing, improving… a week of growing at personal and professional level.
Thanks to this TC, and to the amazing team that guided us along the process, we gained infinite tools and ideas. And what is even more important, the motivation to use and develop all of the mentioned. I could not be more grateful for all the fantastic moments I had back in Austria with all the great participants and the wonderful team, because without their know-how, knowledge and experience it would be half successful! I will definitely use and spread what I learned, and never forget one of the quotes of the week, thanks to which we won again the enthusiasm to keep going in many senses: "Play every game as if it is your last one."
Bob and Laura
Participants in the TC «Power of the Game»
18-26/09/2016, Velden am Wörthersee (Austria)
You can take a look at the manual created during the training course, as well as the summary video of their experience!