In a previous article, you had the possibility to get a deeper insight into what exactly happened during the amazing training course held in Malta, about leadership. As usual, we would love to give more and tell you a bit about our personal experiences. Ticket2Europe sent 3 participants to this course, and as it happens most of the times, they all have different aspects. Let's check them out!
Oskar:
«Coming back from a 10-day voyage of learning and experiencing different perspectives can make you question your current way of living, but in a fantastic way. The 10-day project, lead yourself to leadership, was full of hands-on learning about what it takes to be a leader and how everyone can develop this skill, giving you a new outlook of what everyone is capable of achieving, including myself.
This leadership project was my first Erasmus+ experience and it went way beyond my expectations as I met amazing people, learnt an enormous amount and had a great time. The topic of leadership can be very broad but I was pleasantly surprised by how areas of life such as vulnerability and knowing oneself were addressed directly to demonstrate their importance to being an impactful leader in today's society. We tackled many different topics using experiential learning, and some of my favorite ones were the previously mentioned areas surrounding self-awareness where people can dive far beyond surface level discussions.
If there was only 1 thing that I were to take away from this experience is that true friendships are made. You might imagine that 10 days is not enough to get to know a person, and definitely, there is so much more to know, but as people spend several hours a day together their preexisting judgments start to fade, allowing for everyone to be more open, forming more intimate connections. Learning about leadership in a lecture hall is like climbing a mountain along without equipment. When a project is done well, the people around you become more than just equipment to climb the mountain, they try to make sure that you succeed; that's why the people I met in Malta made it so special.»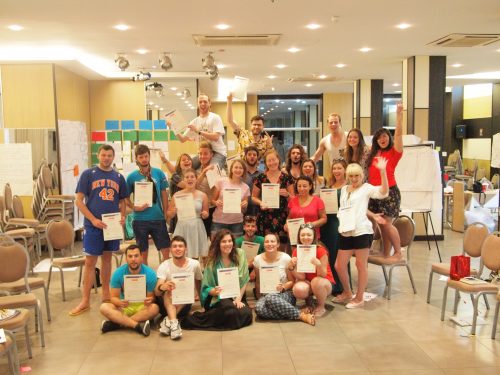 Maria:
«This was my first Erasmus + project (of, I am sure, many to come).
On a practical level, I developed a great deal in terms of leadership skills, knowledge, and competences that I hope to put to use as soon as possible. We started off the week with the foundations: knowing yourself, in order to lead yourself, in order to lead others. This was done through a series of workshops surrounding self-awareness of styles of learning, leading, and motivation, with an additional focus on how to flex between different styles in accordance with a specific situation or group of people. This was an aspect I had not before taken much time to consider, but now realise its importance. Obviously, in ten days, it is impossible to master, but with practice, I know these concepts will prove highly useful.
The rest of the week was spent on developing hard and soft skills relating to leadership, and finally the opportunity to put everything from the week into practice. My favourite sessions were on Design Thinking, decision making, and vulnerability. The latter was without a doubt the most challenging, but I see this as an indicator of it being most useful.
To an extent perhaps even more significant than the training side of things, the impact of the program on a personal level came from interacting, getting to know, and collaborating with the other participants I was lucky enough to meet. The trainers created a space from the first night which allowed for real connections to be made; I feel like after ten days, I know many of the participants from Lead Yourself to Leadership better than some of my oldest friends. This triggered the question in my mind of how is it possible to create such an environment in everyday life, at university or at work. It is something I will endeavour to work on in the aftermath of this experience. It is no secret that you get to know yourself better through getting to know others, thus these connections played a fundamental role in the context of the program.
To sum up: Malta was beautiful, the program was informative, the activities were incredibly fun, the trainers were inspiring and everyone I met is someone I would like to stay in touch with. I am so grateful to have had this first experience with Erasmus +: what a fantastic idea! I still have a lot of reflecting to do, but I am already excited to see how I can be more involved in the future and how my learnings from this course will help me do so.»
Nóri:
«Having had the possibility to participate in more Erasmus+ courses before, I went with pretty high expectations for this training in Malta. The greatest surprise was that what I've experienced there did not only meet but exceeded them! WOW! Great theory, combined with very useful and well-designed practices. I was familiar with the topic of leadership, but this course gave me totally new aspects of it which I truly loved. I am still reflecting on some insights I had. For example, I have never thought before about how learning styles may influence your leadership style. As well as I have never had the idea to connect leadership and vulnerability. We had deep and meaningful discussions also about some blurry, mysterious things such as values, integrity and resiliency which again helped to clarify some important views.
Each project, independently from the topic, has always the extra added value of the actual participants. It is always so exciting to see different people, with different background and ideas of life. During this long week so many like-minded, open, willing to do, ambitious and enthusiastic people gathered that it gave an extra inspiration to keep on swimming and to take new initiatives! I am pretty sure that I'll work with some of the guys in the future, so the training was great also from the networking point of view. 🙂
Usually how I «measure» the quality of a training is that I check the impact on me. Well, it had a great one. Or great ones, better saying. I decided to learn more about different learning styles & to dig even deeper into critical thinking. I had a new idea for my next project on which I already started to work. I will also manage to incorporate some new methods and topics into my own workshops, which is just simply super!
So yeah, overall: great training, great trainers, great learnings, great people, great fun – a super great week in Malta!»