In July, Ticket2europe sent 3 youth workers to Malta
for the Erasmus plus training course "F.E.E.L." which stands for Fearless, Emotional, and Engaged Leaders. During this training course, our members were joined by other youth workers from Malta, Croatia, Turkey, Greece, Poland, Estonia and Lithuania to discover the competence of emotional intelligence (Self Awareness, Social Awareness, Motivation, Self Regulation, and Relationship Management). Read more from Fifi and Silvia, 2 teachers working in public schools in Galicia, about their first experience ever with this kind of Erasmus plus projects:
«First of all I have to tell that this year is being very special in my professional life with many changes and new projects.
Last year I could participate in my first Erasmus + Project, It was totally different than this last one.. It was referred to a formal education as I'm used to learn. This was the beginning of a new way to see and to face myself to my work, to my professional career and even to my personal life.
After my first contact to Erasmus projects I began to want to go one step further, so I tried to prepare my own project with the help of my colleagues and the invaluable support of Romy Alexandra, my auxiliary teacher in my Artworks lessons.
How could I begin to revise all my memories, my impressions from the project for having had the chance to participate last July, from 1 to 10 in Birkirkara ( Malta)?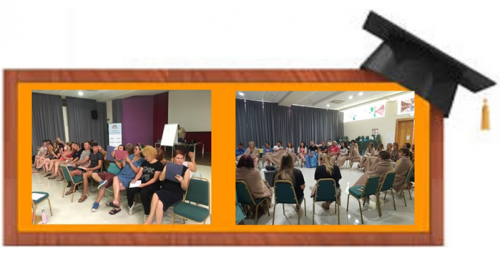 Although I was so focused on my own project I had the opportunity of learning and working together with 30 young workers from different partner organizations and countries: Croatia, Estonia, Greece, Lithuania, Malta, Poland, Romania, Spain and Turkey . This was my first contact to Ticket2europe, the organization in Spain involved on this project. I thought that this project could help me to develop better my own project and I decided to participate on it and involve in a different topic than usual, out of formal learning and teaching.
Main aim of «F.E.E.L.» project is to increase the emotional intelligence competences:
– SELF-AWARENESS
– EMPATHY
-MOTIVATION
-SELF-REGULATION
-RELATIONSHIP MANAGEMENT
This new approach of learning and teaching caused a deep impact in my own way to work out of formal concept and totally useful to include in the traditional methodology and in my own personal life. We are involved in a  competitive society, where tangible results are valued mainly.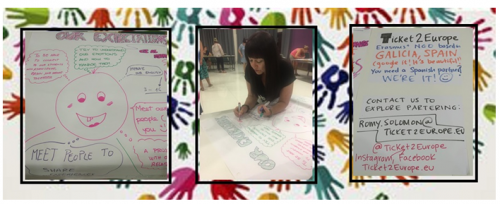 Before my stay in Malta I didn't know a lot about emotional intelligence. I really just had theoretical concepts on the subject. I couldn't imagine that this was the beginning of a new style to include in learning and teaching.
Some of my motivations for taking part in this youth workers mobility project were:
To acquire competences and practical skills for personal and professional development
To experiment and develop new learning practices and training methods
To increase knowledge of social, linguistic and cultural matters
To share my own knowledge and skills with young people and other youth workers
To improve a foreign language
To increase the quality and quantity of international youth projects.
To increase my knowledge about emotional intelligence.
The objectives of the project were:
+ To understand the importance of emotional intelligence for personal and professional growth, as well as increase participants confidence in their ability to relate to others.
+ To increase participants' knowledge in the five areas of emotional intelligence, self-awareness, empathy, motivation, self-regulation and relationship management.
+ To gain the skills needed to manage personal emotional needs and support the emotional intelligence of others. To design and implement a workshop on emotional intelligence and further execute in the future.
My expectations mixed with the objectives set for this project ensured that a successful outcome would be achieved.
Despite working all day, remaining closed, seeing just the sunlight, in the midst of a beautiful island, Malta, time passed very quickly and each of us could share our knowledge, our experience and work together deepening in ourselves and improving our own skills
I realized that non-formal education is just as important as formal education. That nowadays we must consider the development of our emotional competences as a fundamental basis for achieving our goals.
I was able to recognize my possibilities. The emotional skills I already had and those That I needed to develop.
This time it was a totally different experience compared to the project I participated last summer.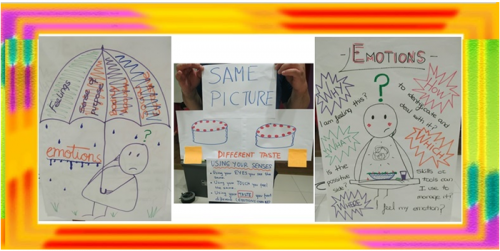 One month after this experience I can say that  now I have new tools to work with my students, to teach them to work with their emotions and feelings, to value not only tangible results but also those that are not tangible or easily evaluable that will help my students grow and improve in their professional and personal future.
Thank all those people who shared their knowledge with us: Margarte White, Luka Tunjic, Romy Alexandra Solomon; to an exquisite organization and host country (Abraham Azzopardi, Prisms Malta).
Thank you for the creation of original projects, so novel and different that they can help us both in our professional future and in our personal lives..
I must also mention and thank you for the pleasure of having shared this experience through emotions, feelings, empathy… with my teammates. I wouldn't have chosen them better. Everyone is unique and truly valuable. It has been a privilege to have been fortunate to have shared this project with them. I've learned a lot from all of them-
We need to get out of stereotypes and broaden our sights in the world of education, look for attractive teaching methods that motivate our students to learn by the sheer pleasure of learning beyond the pressure of formal education
Now I feel like a better human being both professionally and personally.
I have a long way for working on it, disseminate and share my knowledge about emotions, feelings and empathy in my school, in my community and in my personal circle. This is only the beginning of a long and interesting road»
– Fifi Seijo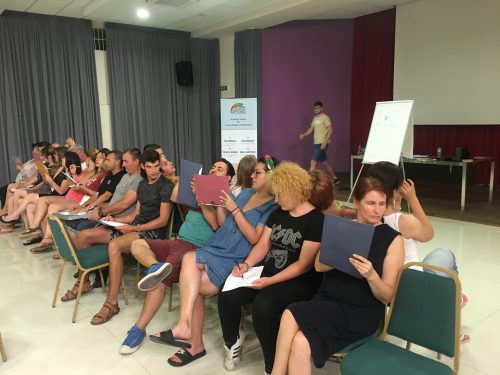 «Last July, I went to Malta  with 30 other young workers from different countries, to immerse ourselves in 10 days of intense work under the topic of emotional intelligence as the main claim.
The course, whose name is F.E.E.L (Fearless Emotional Engaged Leaders), was held from July 1 to 10 in workdays of 9 to 10 hours a day, which initially was honestly discouraging for me. My initial thought was that it would be too many hours locked in one place working hard. I was only right in the fact that we were going to work hard, since each of us tried to do his best at every moment. To my surprise, despite all the time and effort spent, the knowledge came in a fun and spontaneous way, through cooperative work, the exchange of ideas and experiences and self-knowledge.
No one can do a good teaching job if they don't believe in what they teach. This course has taught me that no one can empathize or connect with others if one does not take time first to meet and connect with oneself.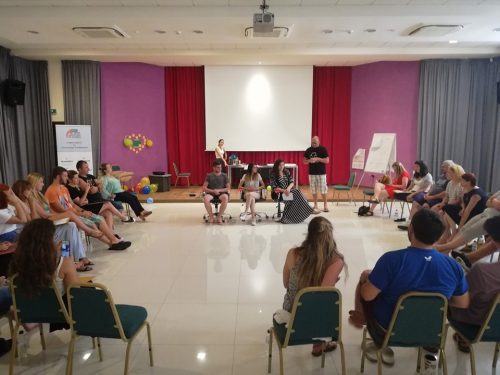 It has been a unique experience, which I would repeat once and a thousand times for different reasons:
For all that new knowledge will contribute to my professional life.
For the new approach we have received to work with our emotions and those of others, both professionally and personally.
For making us stop for a second to think and feel. We currently live in a world of stress in which we do everything superficially, without stopping to thank everything we are or what we have. Now we have tools to be aware of it, live it and share it.
Because we couldn't have better teachers (Margarte White, Luka Tunjic, Romy Alexandra Solomon) or better host and organization (Abraham Azzopardi, Prisms Malta). Thank you for the patience, closeness, professionalism, humanity … but above all thanks for the initiative. It takes more people in the world like you willing to make the change we need so much, and what better way to do it through this non-formal education, as necessary as or even more so than the formal one.
For that group of people we were thinking of taking millions of notes from one more course, and we ended up excited to tears on more than one occasion. Learning when it touches the heart is for life, just like the experiences of this course even if we don't see each other again. It has been an amazing journey through emotions, feelings, empathy, fears … both general and individual. I think that each and every one of us has connected more and better with our inner selves and we have discovered aspects that we did not know.
For me, which was my first Erasmus + experience, I can only take my hat off with the organization, the teachers, the initiative and everything that surrounds this experience, and I hope to participate in many more. The bar is too high!
I can only thank life for putting this experience on my path: that the moment I met the course, the person who made me aware of its existence and my desire to do and learn new things crossed in the same space. And that all these factors together encouraged me to take the plunge, just as I encourage all young and not so young people who want to learn, innovate, meet other places and people, other work methods, other points of view … everything is here in Erasmus +. Eternally grateful … and that the rhythm does not stop! There is much to do.»
-Silvia Vazquez