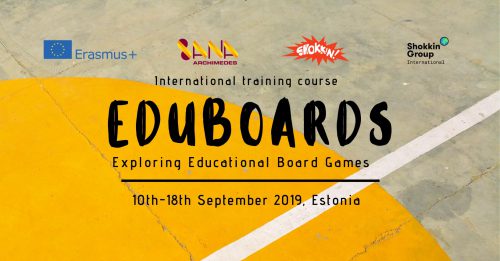 El mes pasado, en Estonia, varios miembros de Ticket2Europe tuvieron la gran suerte de ser parte del training course internacional «Eduboards: Exploring international board games». Y la verdad es que ha sido una increíble e inspiradora experiencia en la que aprendimos a crear nuestro propio juego de mesa educacional, con vista a que los trabajadores juveniles puedan usar esta metodología como herramienta educativa.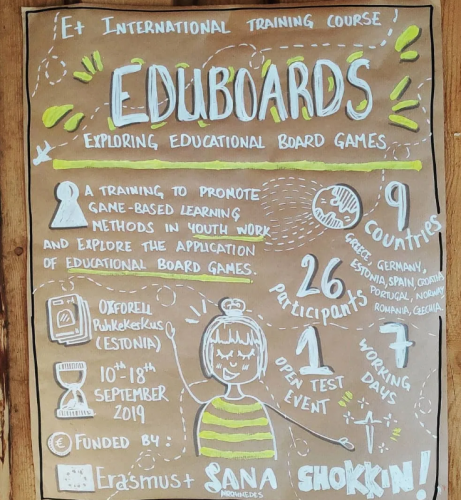 «Antes del proyecto ya había jugado a muchos juegos de mesa, pero realmente nunca había jugado a uno que tuviera un resultado de aprendizaje concreto. Ahora, ya terminado el proyecto, me doy cuenta de cuan diferentes pueden ser los juegos de mesa educativos de los ordinarios. También me doy cuenta de que no he desarrollado solo mis habilidades relacionadas con la creación de nuevos juegos de mesa, sino que además he aprendido a  incluir un resultado de aprendizaje durante el proceso de creación mientras lo hago funcionar» (miembro de T2E).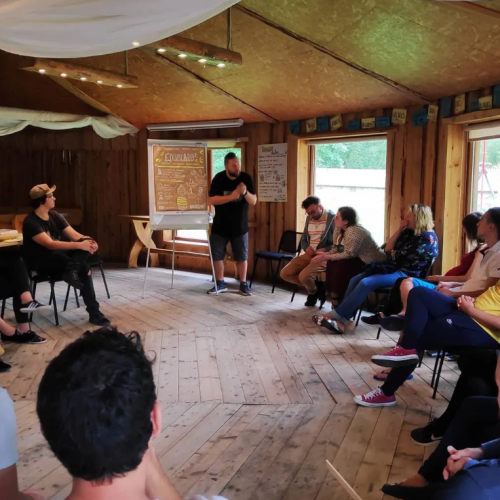 Durante toda la semana se han utilizado tanto juegos de mesa educativos como corrientes, con el fin de experimentar el amplio espectro de mecánicas de juego y de resultados de aprendizaje que estos juegos ofrecen. Se podría decir que son herramientas precisas para obtener y desarrollar habilidades estratégicas, pero obtener de un juego un resultado de aprendizaje es una tarea más complicada.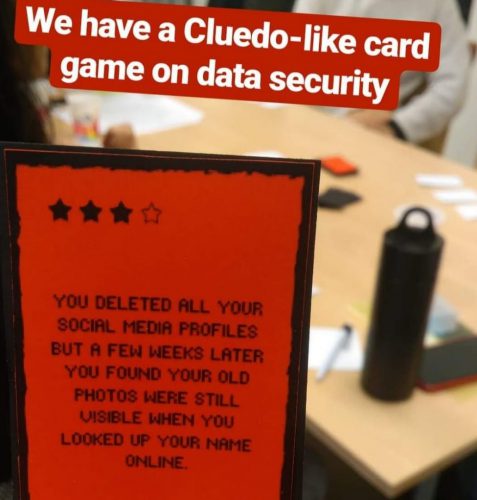 «He estado en varios training courses antes, pero en este he sentido especialmente como si tuviéramos muchos intereses comunes. Hemos compartido mucho del tiempo libre probando juegos ajenos y proporcionando feedbacks además de simplemente disfrutar de algunos de los juegos más míticos. Ha sigo muy interesante el poder hablar y utilizar estos recursos durante el desarrollo de los juegos de mesa (miembro de T2E)».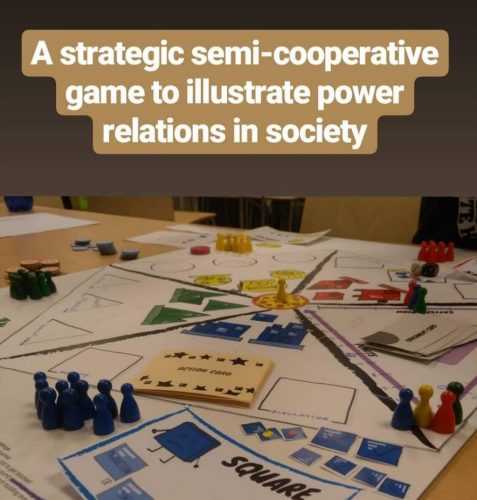 Con el proyecto a punto de finalizarse y tras un poco de auto análisis, los participantes del proyecto han concluido en que ahora son capaces de apreciar la diferencia entre un juego educativo y uno que no lo es, son capaces de utilizar y contextualizar el marco de implementación de los juegos, y sobre todo, sienten que todo el aprendizaje ha resultado significativo para su auto-desarrollo en el camino de convertirse en trabajadoras y trabajadores juveniles con un buen set de habilidades y herramientas que poder utilizar.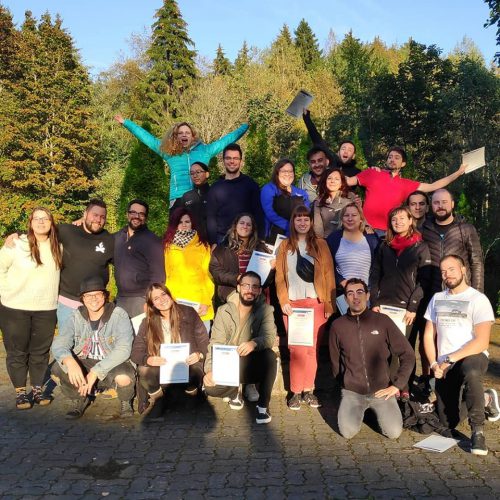 Aquí el vídeo resumen del proyecto:
Remembering:Eduboards: exploring educational board games

Otro proyecto llega a su fin… Pero nuestro equipo español representante de T2E no podía estar mas contento con los resultados y el aprendizaje obtenido durante estos días. Educación activa y funcional para la juventud + Juegos de mesa como herramienta= Una tarta de sabores estroboscópicos! Aquí el enlace del artículo:Here the link to the article:(Both spanish and english)http://ticket2europe.eu/uncategorized-es/2019/recordando-eduboards-exploring-educational-board-games-en-estonia/?preview_id=12513&preview_nonce=07e0b537c9&_thumbnail_id=12527&preview=trueTambién aquí el video resumen del Training course llevado a cabo en Estonia en colaboración con @Shokkin Group Estonia#Erasmus #Erasmusproject #Erasmusplus #trainingcourse #boardgames #Educationalboardgames #education #newtools #educationalmethods #shokkingroup #ticket2europe #games #boards #Estonia

Gepostet von Ticket2Europe am Samstag, 30. November 2019
ENG:
Last month we, as members of Ticket2Europe, took part in the training course: "Eduboards: Exploring educational board games». It was such an incredible and inspiring experience guided to create our own educational board games, focusing the target group of youth workers as the users for applying of this methodology.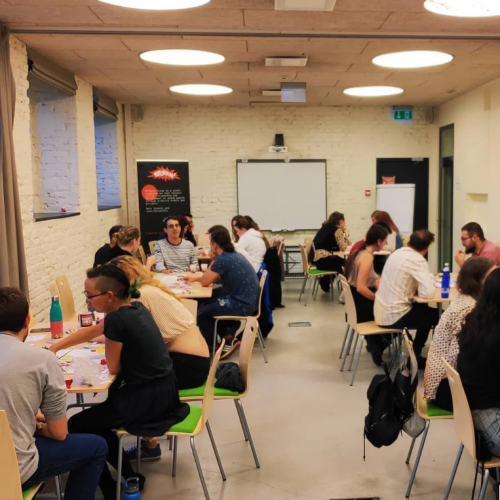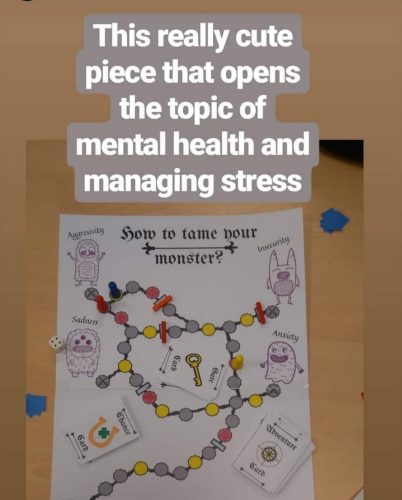 «Before the project I had already played a lot of board games (50+), but actually I had never played the ones with the concrete learning outcome. Now, after the project, I realize how different can be an educational board game from an ordinary one. I have not only developed my skills about game creation, but have also created new ones about how to include a concrete learning outcome and how to make it work».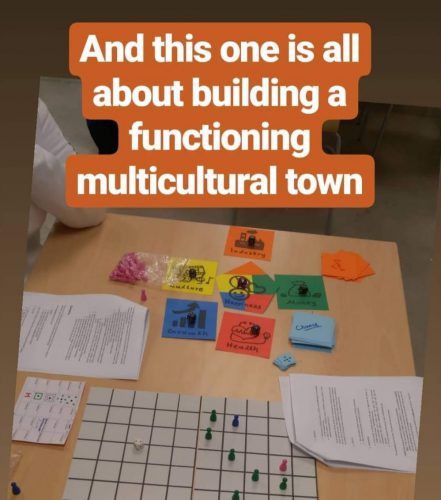 All along the week we experimented with ordinary and educational board games, to get a closer approach to the mechanics and also to the way on getting the learning. Almost every game is a good tool for developing strategical skills, but having a specific learning outcome as well is a different thing.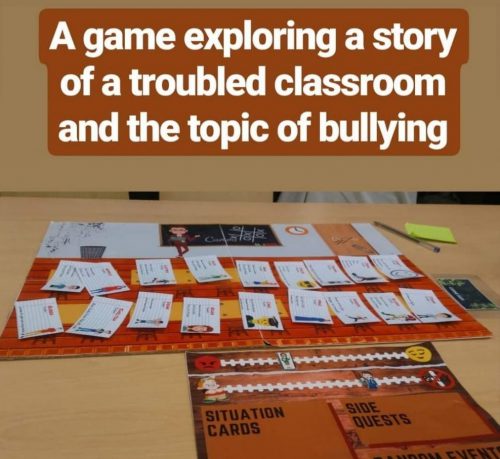 «I've been in many training courses before, but in this one I felt like we shared common interests in a lot of free time activities as well testing each other games, or just having fun with some mythic board games. It was so cool to speak and use these resources during the development of the board games».
Now, I feel that my skills for the development of board games have improved – I can see the difference between an ordinary board game and an educational one. I can get to know how and where to use them. And, above all, I feel that all these learning can be meaningful in the way of my self-development on the way of being a youthworker with good skills and tools to use.
Pablo Larrubia Sande