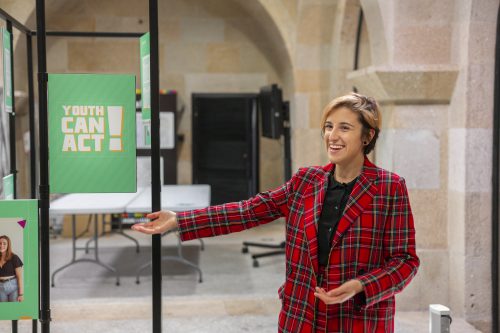 On 11th November , the «Youth Can Act!» campaign of the spanish participants came to its culmination with the inauguration of their «Testimonies Exhibition».
The human library they have created on Instagram gave the leap to the physical world, face to face with its target audience: the young people of Pontevedra. The inauguration took place at the Casa da Luz in Pontevedra at 19.00 together with a group of people of various background and age.
Two of the campaign coordinators Yanina and Nuria, as if they were museum guides, gave a talk to the audience, telling the peculiarities of the campaign and presenting each of the 9 references along with their themes of social activism.
Each poster exposed a photo of the social activist on the one hand and on the other a short description of their thinking towards activism, the topic they deal with and a QR code that directs the visitor to the video of their story on IGTV. This interactive stroke can also be seen in the structure that is mobile and you can rotate the poster depending on what you prefer to see. In this way, they play with the double-sided of drawing attention to the photo but having the story of that person from behind, as if they were reading into them.
The exhibition lasted until November 29 at Casa da Luz, but it has a nomadic soul and will appear in other locations during this year and 2020. Who knows where it can be found?!