Post # 8– "Light Up Entrepreneurship"
Hello everyone! August ran really fast and it's already beginning of the autumn.»Sunday of the year» as always felt to be quite short , but in reality it was full of interesting activities and events that happened to me.
Starting from the first day of August it seemed to be very promising.In the evening I took a bus to Vigo,ahead of a big concert I was awaiting long before.I had a small walk in a city centre and headed to the Castrelos park,where the small amphitheatre with a scene is placed.After hour of waiting in front of the scene to concert started and it was… 30 Seconds To Mars! It was not just a concert – it was a real show with the great musical and visual performance. Jared and Shannon Leto interacted a lot with the audience,making jokes and motivating people to be really involved into a singing and even 2 times took the several guys to the scene to sing and dance together.The concert was mix of the songs from the last album and the old ones,all together mix of electro sounds,guitars and drums.It was one of the best live performances I have attended and the funny fact is a price of the ticket – 8 euros(almost the same as going to the cinema). The concert was hold within a «Vigo en festas» festival and was sponsored by the city hall so it had a symbolic price. After this unforgettable experience I had a chilly night walk in Vigo and later took the first morning train back to Pontevedra.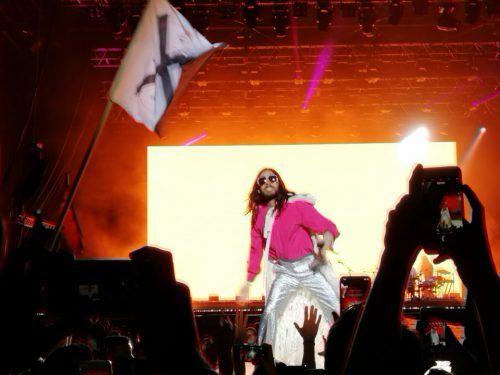 The whole first week of August I stayed busy with the creation of the guideline booklet on the creation of a «time bank».A time bank is a reciprocity-based work trading system in which hours are the currency(one hour= one credit). With time banking, a person with one skill set can bank and trade hours of work for equal hours of work in another skill set instead of paying or being paid for services.This guideline will introduce you into the concept of timebanking,its definition and all the necessary steps in order to bring to life and run your own model. If you are interested and want to learn more regarding the topic you can check out the booklet here: We Are All Timebankers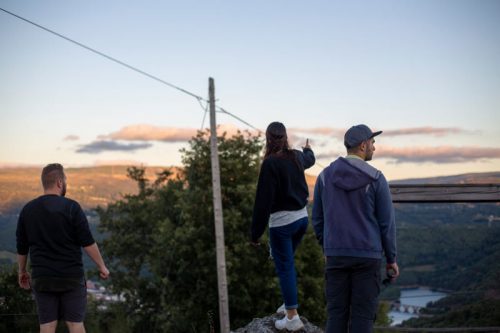 The next week came the travel time again – with a new EVS volunteer Tilda,coming from Sweden,we went to Vilagarcia,where we meet with our friends Olalla and Pavel,who came from Estonia for the vacation and headed to Olalla's hometown Viana De Bolo. Viana is located in province of Ourense and very close to the Portuguese border.It is a small town of only 2000 inhabitants,surrounded by the artificial lake and even having a small tower on the top of the hill. As I told you before,don't believe if someone says that it's always warm in Spain- we were literally freezing for the first two days. In total we spent 4 days there,exploring the city,attending summer festival and discovering surrounding mountainous area of rural Galicia.I also noticed that I am capable of understanding some Galician language due to Spanish, thankfully due to the fact that accent in that area is not strong.It was a nice trip and time spent with the friends that I have not seen for a while,but for sure will see them again in a proximate future.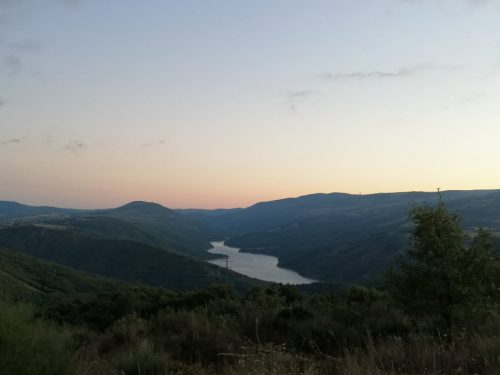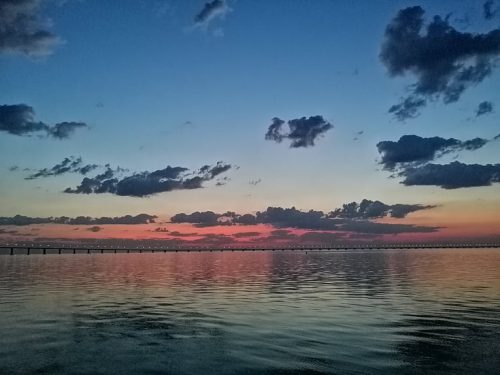 After staying for several days in Pontevedra, I set out to my final destination of this summer – Lisbon.My companions in this case again were Evs-ers Tilda and Thomas and after just a 7 hour ride with a night bus  we were there. We arrived just before the sunrise and meet next to the coast with a breathtaking views.From that very moment this trip seemed to exciting.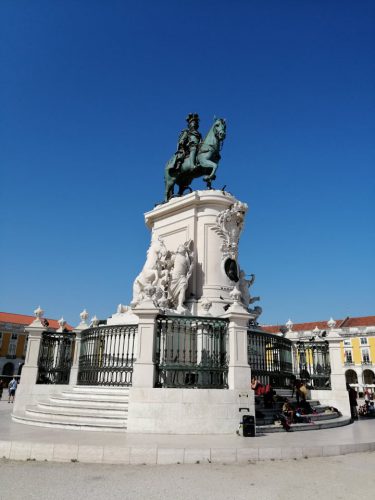 As previous times,I decided to use couchsurfing for staying with a local and I could not imagine better – my host was a super cool guy Henrique, living in an apartment with bunch of his friends( two other guys and both Miguels),he was very hospitable,friendly and interesting person. So after dropping my backpack I went to discover Lisbon.From the first visit it difficult to associate Lisboa,as it is called in Portuguese, with something particular. Being a port city, at the same time it lies on 7 hills and is surrounded by numerous viewpoints. In the centre you can find monumental columns dedicated to great explorations of the middle centuries and at the same time colorful houses with the traditional tiles of «Azulejo». You can have a ride on a vintage tram as well or have a panoramic overview from the statue of Christ, overlooking the whole capital. Lisboa is like a portuguese character – happy and sad at the same time. May be that's it what they call «Saudade» here.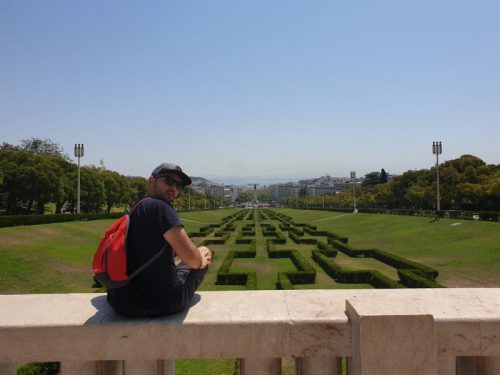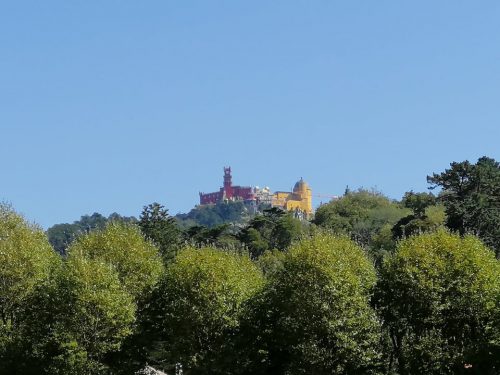 On the second day we had a day trip to Sintra,which is just a 40 minute train ride from Lisbon.Sintra is a city where Portuguese kings and nobles had their castles and residences like Pena or «Palacio Nacional» during the middle ages as well as Moors had settled fortification in early 9th century – its an alive example of the whole cultural mixture throughout all this centuries. We had a hike intensive hike in a hilly paths of the area on the way to castles and in the end of the day entered «Quinta de Regaleira» – an extravagant 19th century gothic mansion that is surrounded with some of the most elaborate gardens of Sintra. The gardens are filled with decorative fortifications, mystic religious symbols and a series of secret passages and caves.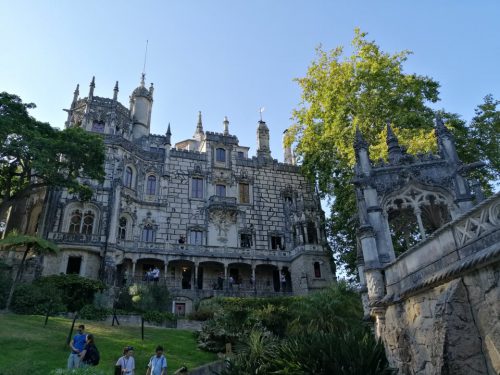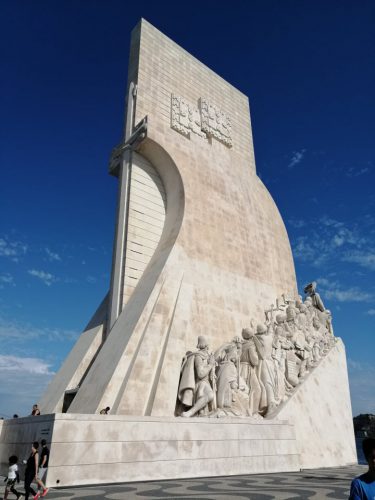 The last day I dedicated to visit statue of Christ,which overviews whole Lisboa with a breathtaking view and later want to a historic district of Belem.Originally, Belem was the location of Lisbon's shipyards and docks, and from here departed the 15th-century voyages that discovered the sea routes to India, East Africa and Brazil. This rich seafaring heritage is commemorated in Belem, along with extravagant buildings that were funded by the vast wealth that flowed into Portugal from the newly discovered colonies. As well here is placed big monastery complex and Presidential residence.The day was coming to an end and we had to say goodbye to this wonderful city and headed back to Galicia with a night bus.
In Portugal is quite possible to speak English but I decided to practice «Portunol» which something between Spanish and Portuguese and it was quite curious how linguistic interconnections can work and how you can understand language without learning it before.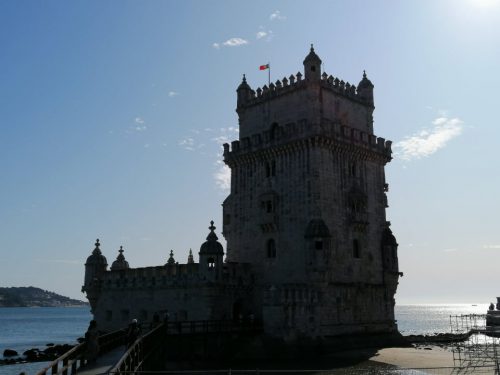 Hope  all of you had a great time while August and now are getting ready for a new season full of energy and fresh ideas.As always,take care and stay tuned! Until the next time!